Browsing articles in "MPJ BLOG"
I've been photographing concert photography for almost 20 years now. When doing so for that long, you really have to find ways to challenge yourself. Of course, each show can been a challenge as you never know what the lighting will be like, or other types of obstacles that can be thrown in your way last minute – for instance finding out that you're only allowed to shoot from the soundboard minutes before the band goes on, or that you only get to photograph one song instead of the standard three, meanwhile your "one" song is a crowded photo pit, 2 photographers deep sandwiched in with no room to move…
But over time, things become second nature and you have to push yourself in new ways to keep things interesting and fresh. For me, I find doing experimental type photography to help. When I shot film, that meant picking up a roll of infrared film (Color Infrared and Black & White Infrared), trying to do some cross processing, maybe pick up a new filter or even rent a fisheye lens. This time around, I decided to push my photography skills even further.
I was going to the Mayhem Festival to just see Hellyeah and King Diamond. (I had sprained my finger and didn't think I could go all day working, so I skipped requesting to cover the show as press). Since the tour allowed you to bring in point and shoot cameras, I decided it was a perfect opportunity to challenge myself and see if I could get professional looking photos with only using a new point and shoot camera. I picked up a Nikon Coolpix L830 – a 16 megapixel camera that retails for about $300 (I got it on sale at Best Buy).
Going in, I knew I had to quickly learn the limitations of my new point and shoot and figure out a way to work within those limitations to create the photos I desired. The one thing I didn't foresee was the lag time from after you clicked the shot, until it finished recording through the camera and onto the memory card. On my professional cameras, you never really see any hesitation except if your using a slower memory card. So I learned quickly that the "decisive moment" was even more critical as at times, it took a good 20+ seconds to record. I tried staying within those first 3 songs, but I did carry over a little into the 4th.
PHOTO GALLERIES:
HELLYEAH Gallery
KING DIAMOND Gallery
RESULTS: Overall I was really happy with how they turned out.
FROM A PROFESSIONAL PHOTOGRAPHER PERSPECTIVE: I think that even though the time lack, and the images weren't as crisp as I'm used to, I was still able to get in pretty good shot that still come across more professional than some images I have seen taken by professional cameras. However, you can tell that there is a difference in quality from a point and shoot 16 megapixel camera and a professional 16 megapixel DSLR. The images are not quite as sharp (could be the glass/type of lenses). Also, shooting I was a good 4 rows back or so, shooting over heads, so if I was closer, would it pick up more detail?? I don't know. That would be a good test to see if it's part of the point and shoot's limitations. The noise quality almost reminds me of my first digital images, taken on a Nikon D70.
FROM A FAN ATTENDING A SHOW PERSPECTIVE:  I think the camera was really easy to use. The images came out great for a point and shoot and the camera definitely takes better concert photographs than any camera phone. Overall I was happy with the Nikon L830 and believe it's a really great and affordable cameras to bring home memories!
As we ring in a new year, I took a moment to look back upon all the fun I had at my music webzine, Musician Photo Journal. I had interviewed and photographed some of my favorite bands, saw a lot of familiar faces and even had the pleasure of interacting with several different artists that I have never worked with before. When I reflected upon the interviews I did, I would have to say one of my biggest highlights was meeting and working with one of my favorite bands that I loved growing up, Skid Row.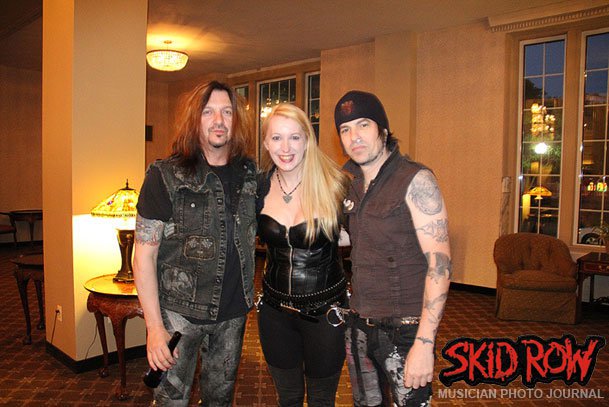 The story ironically starts a year ago as we rang in 2011. I had gotten a new car with satellite radio toward the end of 2010 and celebrated the New Year while listening to Hair Nation.  It wasn't until I found that station, did I realize just how much I missed the music I grew up on and how happy it makes me.  As the weeks went on, Skid Row was one of the bands that was really jumping out at me. I knew every song they played, word for word as I had played their albums growing up until the cassette tapes wore out and snapped. I would find myself in the Record Stores (yes, some still exists) re-buying those album and picking up their latest albums as well.  It was great to reconnect to what is the roots of my love for music. It really gave me something old and new to listen to, and got me through the frigid winter months that we had in Central NY.
Spring came and they announced that Skid Row would be the headlining artist for Taste Of Utica festival in June.  I was so excited to get to see them again, after all these years. I submitted my request to photograph the show and to do an interview with them. I wasn't sure how their schedule would work but I was hoping they would be able to fit me in. When I found out that I would be interviewing Dave "Snake" Sabo and Rachel Bolan, I have to admit that I was a little intimidated. They were the founding members and the main songwriters of the group that I loved for all these years. It was strange because I have been around a lot of different musicians and "famous" people most of my life and I usually don't get intimidated;  I didn't understand why now?  I couldn't remember ever hearing stories about anyone meeting these guys, so I really didn't know what to expect. Would they be cool? Would they be fun to talk with? For being in the industry for so many years and have accomplished so much, would they be full of themselves?   Yet I told myself that there has to a reason they have lasted so long in this industry. I pushed those thoughts aside as best as I could and just focused on what I wanted to ask them and the flow of my questions.
I ended up getting only 15mins to do my interview. My crew and I went early to set up the cameras, test out the lighting/sound and give me a few seconds to review my questions. Afraid I planned a little too well and had way too many questions to fit in a 15 minute block, I recorded my intro before the guys got there.  I don't usually do that, so it threw me off my game a little. I felt the interview had a little rough start but Rachel jumped right in and the interview was on its way. Any intimation that I had went straight out the window. These guys and their crew were really awesome to work with and I can honestly say, Rachel and Dave surpassed any expectation that I could even image or hope them to be. They were really down to earth and fun to talk with.
Now, if only ALL my interviews in 2012 will be this great, it will be one superb year!
Here is the interview:
You can also check out the photos I took from the show at MusicianPhotoJournal.com.