Browsing articles in "PHOTOGRAPHY BLOG"
LOCATION 1 :  Utica Train Station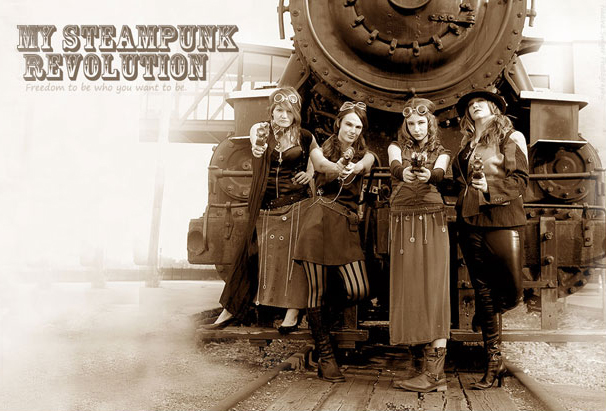 The studio shots were complete and we were off for our location shots. These have to be my favorite kind of shoots. Maybe it's the photojournalist in me that loves the challenge of the unknown that can happen on these shoots, but the models seem to come more alive as they work with the environments.
Like in the past location shoots, I scouted out areas weeks before the shoot. I immediately had the train station on my list, with the old steam engine. What I hadn't anticipated was when the trains would be rolling through the station. We were only about 10mins or so into the shoot when the first train passed by. The roar of the steal on the tracks, the rush of the wind as the train past added to the excitement and energy on the shoot. The models were great and embraced the passing train into their shoot and even got the train drivers to wave, and blow the whistles.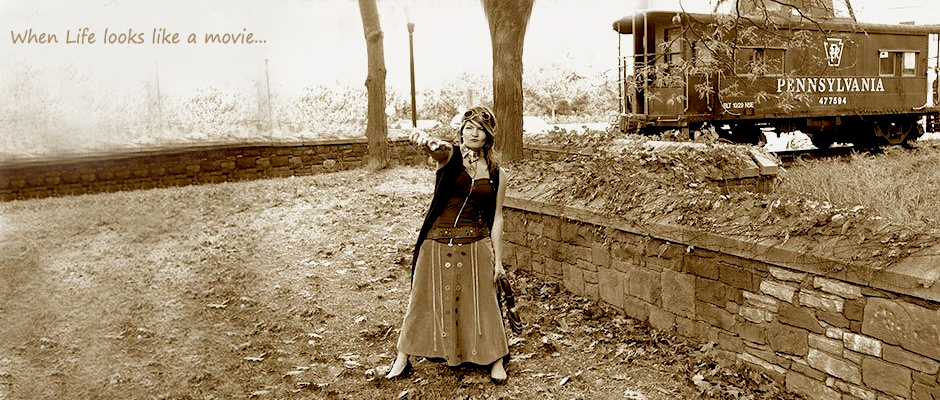 ____________________________________________________________________________
LOCATION 2 : HOTEL UTICA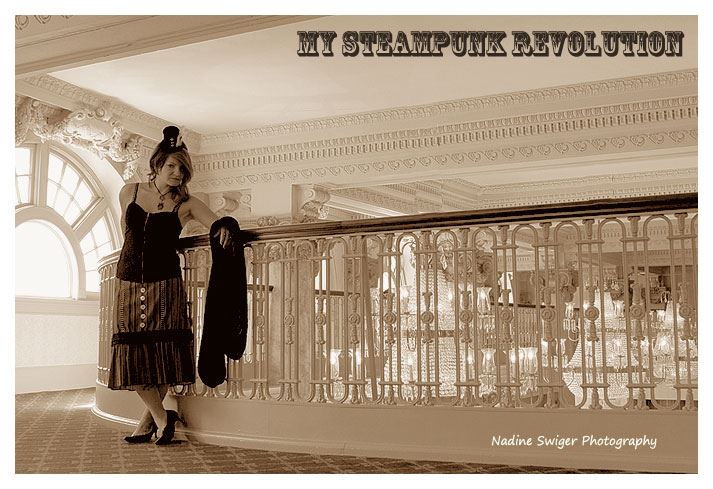 The Second location was secured only the day before the shoot as another location I had in mind fell through due to scheduling. As one door closes, another opens and I couldn't of asked for a more perfect place to do the shoot. I always had the Hotel Utica in mind, but never had the chance to stop in to set anything up. I knew it was last minute and a long shot, but I figured what the hey! And they said yes!
The historical landmark hotel was built in the 1912. It became quite an establishment back in the day. It was rich with culture, prestige as many famous guest stayed at the Hotel. The walls of the mezzanine rang when Judy Garland once sang for the hotel guest; NY Yankee's Mickey Mantle signed autographs infront of the hotel for the enthusiastic crowds; the beautiful Mae West also graced the halls, and President FDR Roosevelt and first lady Eleanor Roosevelt were also guest to the hotel after the Democratic Convention.
When I got the call that it was OK to do our shoot there, I was so excited. I was on the phone with the models as I had to push the time up to go there. With everything falling into place, we had an amazing time.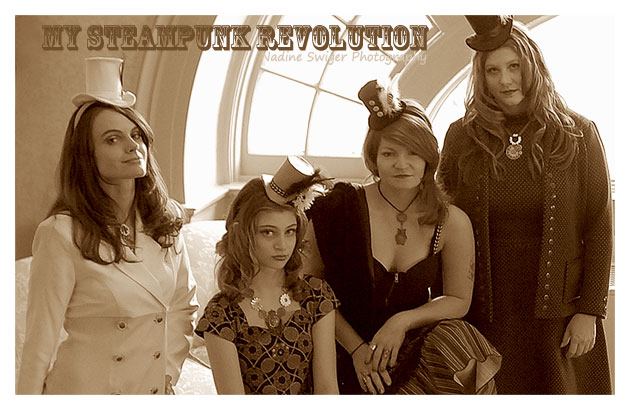 _____________________________________________________________________
LOCATION 3 & 4 : ROME & ORISKANY NY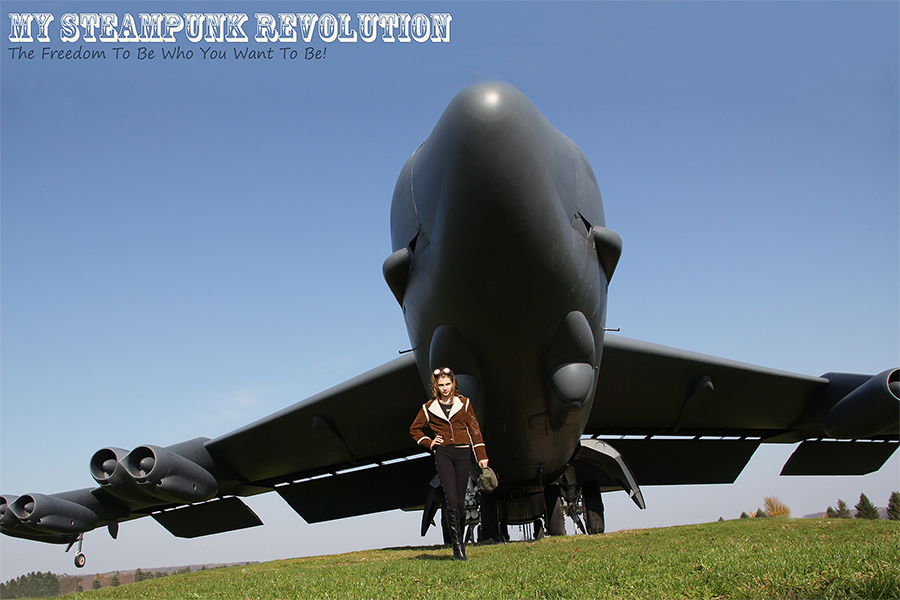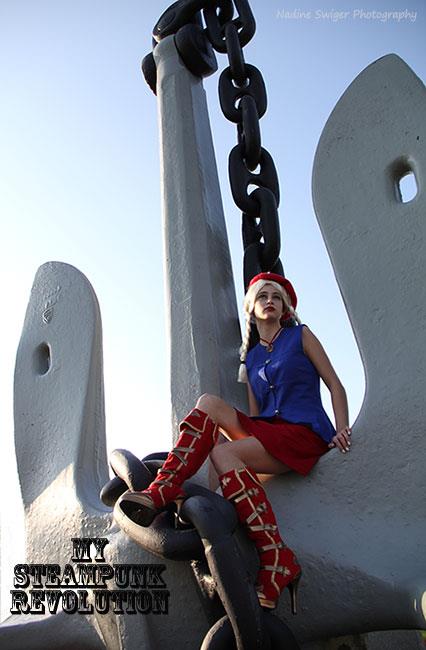 The Third and Fourth locations were also based around historical places. The first was the former Griffis Airbase. They have a B52 Bomber plane (similar to the ones used in WWII) on display that I thought would be perfect for a pilot shoot. The plane was named The "Mohawk Valley" after the men and women who built, maintained and flew the plane. This particular plane first took flight in 1960 and flew during the Veitnam War and was used for training for the Gulf War. The plane now sits as a memorial to all those who dedicate their lives and defend our country. And the fourth location was at the memorial for the Oriskany Battleship. They have a huge anchor which came off the battleship on display at the Oriskany Museum and USS Oriskany Reunion Association.  The Oriskany area was where the bloody battle of Oriskany took place during the Revolutionary War, which some say was a turning point in the war. Many years later, a battleship was built and named in the battle's honor, the USS Oriskany.
Overall this shoot was huge, but the rewards were far beyond what I expected.  Many thanks goes out to the models and to those who help make this happen. You can see some photos below and the others at www.MYSTEAMPUNKREVOLUTION.com
___________________________________________________________________
LINKS
MY STEAMPUNK REVOLUTION
WEBSITE : www.MySteamPunkRevolution.com
FACEBOOK : www.facebook.com/mysteampunkrevolution
OUR MODELS:
Julia Salamone, Tamara Marie, Kate Ellis, Brit Rose, Katlynn Woodward,
Jenn Bramley, Emily Esty, Darien Faith
___________________________________________________________________
I was gearing up to shoot the first of many photo shoots for My SteamPunk Revolution. The shoots ran over the course of 3 weeks as we had enough to launch their new website: MySteampunkRevolution.com.
I was very excited as I had 100% control over the shoot. From searching high and low for the outfits, belts and funky goggles to making mini top hat fascinators, yarn hair falls and feather shawls, I couldn't wait to get these shoots on their way. This was definitely the largest photo shoot I have taken on.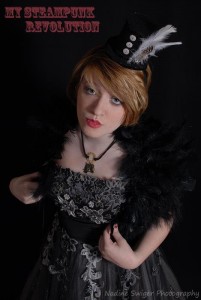 Round one was shot in the studio with a low key setting. The lights were set; the outfits on the rack and the models began to arrive. Unfortunately the night before, the furnace wasn't working and the repair guy was suppose to be there in the early morning. Like anything with Murphy's Law, he was running late. The girls were dressed and we were just about finished with hair and make-up when he arrived. I have to say, it was quite amusing when I answered the door to let him in. The first thing he saw on the table was our "props" of bullet belts, rayguns and goggles. He's eyes got so big, he stopped dead in his tracks and asked "What the hell is going on here?" I could only imagine what was running through this poor man's head. I told him that we were just about to do a photo shoot and pointed to the models. The look on his face was priceless as you can imagine the relieved look on his face when he saw the girls were fully dressed. Katlynn was up first in a formal ball gown and Tamera minus the hairfalls was on deck in a 1930's inspired pinstrip skirt. I'm sure our repair guy had lots to say when he got back to the office. 🙂 Before we knew it, we had heat and out shoot was set to go.
The Low Key shoot was spilt into two days. We had a blast and I couldn't wait to take the girls out on location. Here are some photos from the first low key shoot: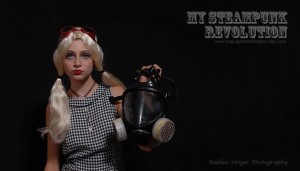 Check out PART 2 for LOCATION SHOTS.
___________________________________________________________________________________
LINKS : CREDITS

MY STEAMPUNK REVOLUTION

WEBSITE : www.MySteamPunkRevolution.com
FACEBOOK : www.facebook.com/mysteampunkrevolution
MODELS
Julia Salamone, Tamara Marie, Kate Ellis, Brit Rose, Katlynn Woodward,
Jenn Bramley, Emily Esty, Darien Faith
___________________________________________________________________________________

I first met Brit Rose, designer of RosMari Brand at the "Chicks Along The Canal" show in Little Falls, NY. The two day event was designed to showcase local women entrepreneurs, and is part of the city wide Canal Celebration. At the show, I had the chance to walk around and visit the other booths. When I met Brit instantly there was something about her that I really liked. When we got talking more about her clothes and her drive behind it, I was very impressed. RosMari Brand is one of a kind, upcycled clothing and accessories line.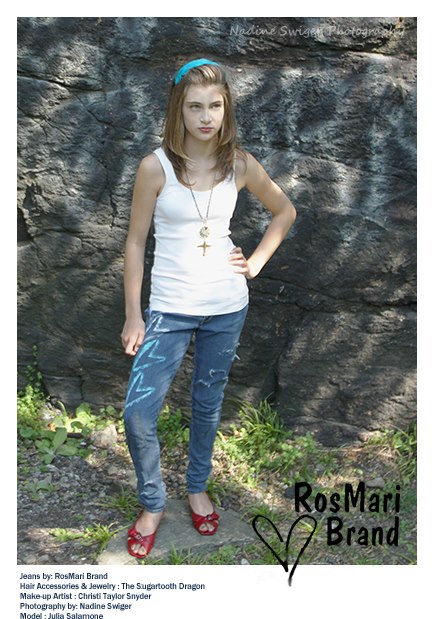 Brit was informing me about how many clothes are put into landfills a year. I don't remember the actual number she told me but I do remember it was a shocking amount. Brit is doing her part as she refashions, reconstructs and recycles clothing into these wonderful unique designs. I don't know if it was that Brit brought me back to my youth, from my earliest of college years when I studied and received an AAS in Fashion Buying and Merchandising, but the more we talked the more I knew that I had to work with her. We talked about getting together to collaborate on a photo shoot, where we would combine RosMari Brand with The Sugartooth Dragon. Soon after, RosMari Brand was accepted to be part of the Bust Magazine show at the World Maker Faire in NYC. After that, we were determined to do the shoot before the show.
After taking with Brit and exchanging a few tear sheets back in forth, I felt that I had a pretty good idea for what the shoot should look like. We wanted to do a shoot that could represent RosMari Brand in a higher fashionable light while showing the world our little part of central NY. I pulled from the models I have worked with in the past, Brit from the models she worked with in the past and it wasn't long before we compared calendars and set the date. It's been a long time since I had done a photo shoot of this size but I was very excited to get back into that seat. We came to the decision of shooting in Little Falls as the city is rich with amazing and wonderful places and locations to shoot.
I scouted out the area and pinpointed several sites. I fell in love with the outside of the historical building that houses the Little Falls Public Library. When I went inside, the place was a perfect setting for the shoot. I spoke with their director and she agreed to not only let us use the library but granted us permission to work in the upstairs reading room that is under lock and key and away from their patrons. I was so excited to do the shoot there and excited that we had booked our first place.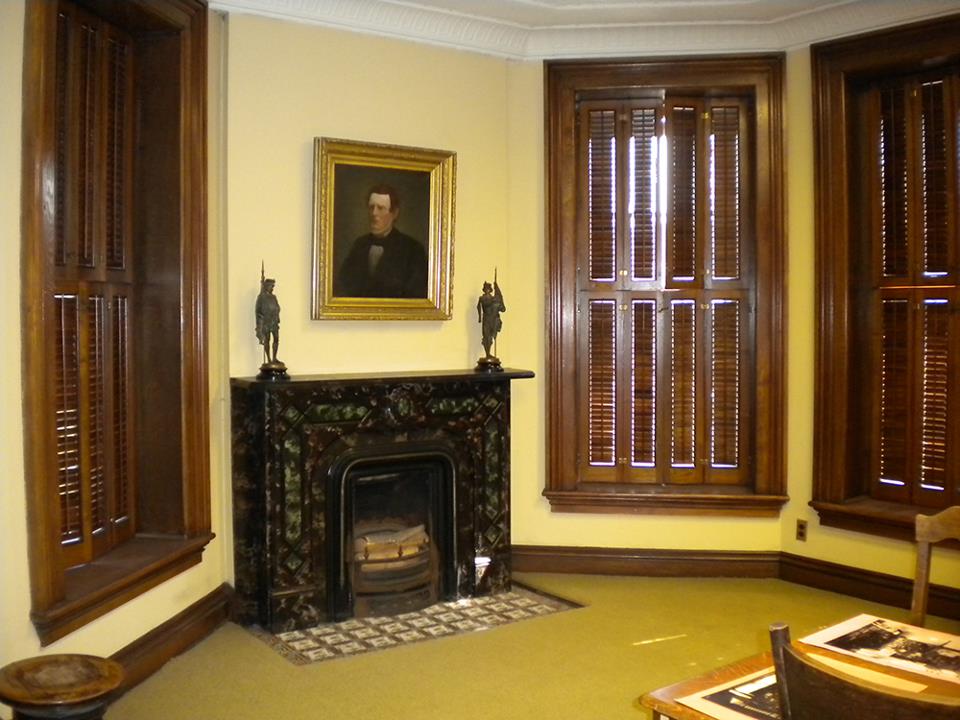 Driving around Little Falls, I found several other locations that I wanted to shoot in. I was always fond of Lock 17 as I find it full of inspiration. I envisioned doing many different styles of shoots there and finally would have the opportunity now. Brit mentioned about doing a more urban look and I loved this building that was just off main street that I thought fit the bill perfectly. We both loved the idea of The Stone Mill and I spoke with Juli of The Mustard Seed about shooting in her store as well. I found so many wonderful spots to shoot and the locations were set.
Location Pre-Shoot with point and shoot camera: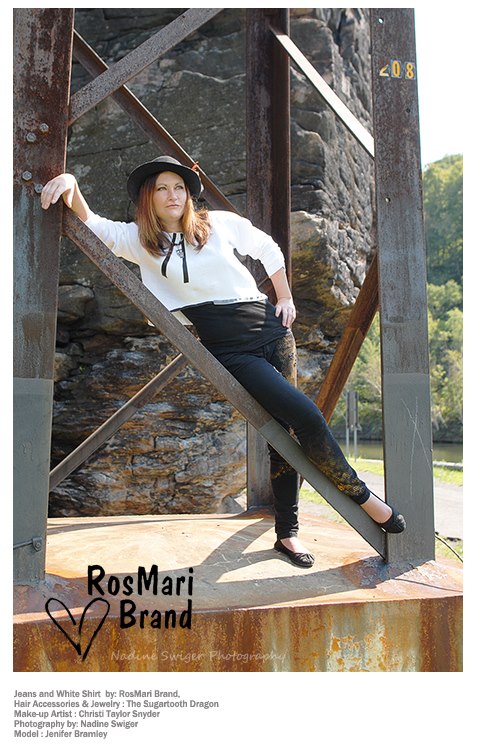 From there we got Christi Taylor Snyder to come aboard as our make-up artist and Rose from PureNatural Minerals (who was also at the Chicks Along The Canal show) provided us with wonderful eye shadows to use. Things were falling in place and we were set to go.
That morning the girls arrived; hair and make-up began. The models got into their first outfits and we were on our way to our first location, Lock 17. Unfortunately, it took us a little longer than we had anticipated getting the girls ready, so we were fighting the high rising sun. Things got bright quickly and we had to work as quickly and efficiently as possible.  Working around the lighting conditions as much as possible, I believe we got some truly fun and wonderful shots.
Lock 17 shoot :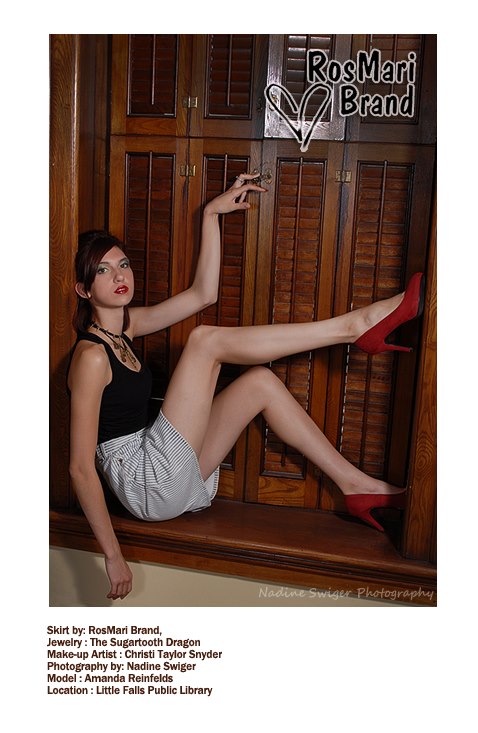 From there we headed over to the library for outfit change #2. With the later start, we were running a little behind schedule, making the next time slot even shorter as we had to finish before the library closed. I have to say, this was one of my favorite shoots of the day. The location was wonderful and I could control the lighting here! The girls rocked the shoot and before we knew it we were pretty much out of time. Kari and all at the library were wonderful to work with and I hope we will be able to come back again for another shoot.
Gallery : Historical Reading Rooms at the Little Falls Public Library shoot.
From there we headed over to the urban location and outfit change #3, to the old building just off Main St. That's when our fourth model was able to join us as she had other obligations earlier that day and we booked her last minute. By now, the sun was starting to go down and we were getting that rich warm glow in lighting conditions. We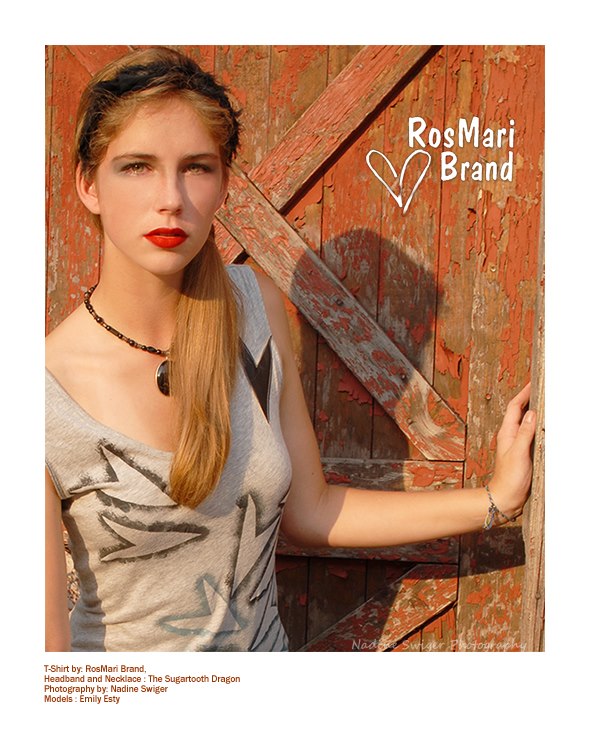 were definitely on a roll now.  We took several from this location and then walked down to where the tunnel runs under the train tracks. We took several fun shots in the tunnel and heading over near The Stone Mill. At this point we were starting to lose light fast and we headed to the wall near the canal. When we make it back to the Stone Mill, we decided it was getting too dark and decided to keep that location for another time and call it a day.
Gallery : Urban Shoot off Main St
Gallery : Tunnel Under Train
Gallery : Wall on the Canal
The shoot over all was a lot of work but 110% worth it! The models: Amanda Reinfelds, Jennifer Bramley, Julia Salamone and Emily Esty were wonderful and a pleasure to work with. Christi rocked the make-up chair! and I believe not only did we have a great time, but we accomplished the goal we set out and created some really awesome ads for RosMari Brand. I look forward to working with Brit and the girls again soon.
________________________
LINKS:
RosMari Brand : rosmaribrand.blogspot.com or facebook.com/zhoozhbrand
The Sugartooth Dragon : facebook.com/The.Sugartooth.Dragon
Pure Natural Minerals  : facebook.com/PNminerals
________________________
OTHER LINKS:
Little Falls Library : Website  |  Facebook
Lock 17 : nycanals.com | tug44.com
The Mustard Seed : Website | Etsy
City Of Little Falls : Website
Emily Esty : FB page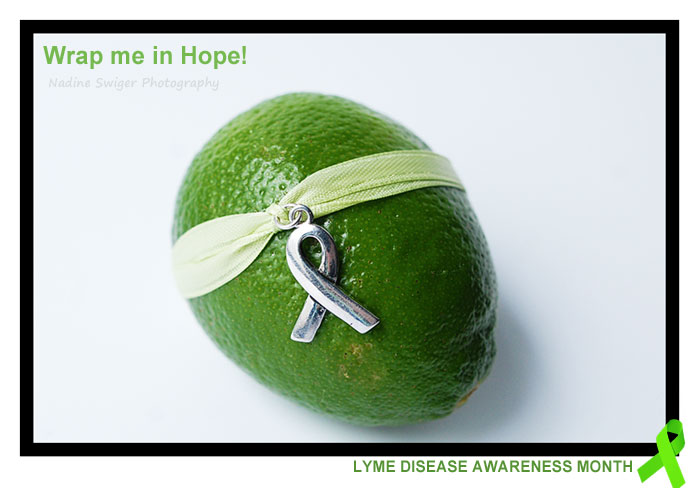 Just A Little Lyme In Each Photo:
With the number of ticks on the rise, so is the number of people infected with atleast one tick-borne illness. May is National Lyme Disease Awareness month – get informed on how to protect you and your loved ones!  To raise awareness,  I will be featuring a different photo that was inspired by "Lyme" through out the month.
_______________________________________________________________________________________________________________________________________
Click on each photo to find out a little more about Lyme and the inspiration behind the photo: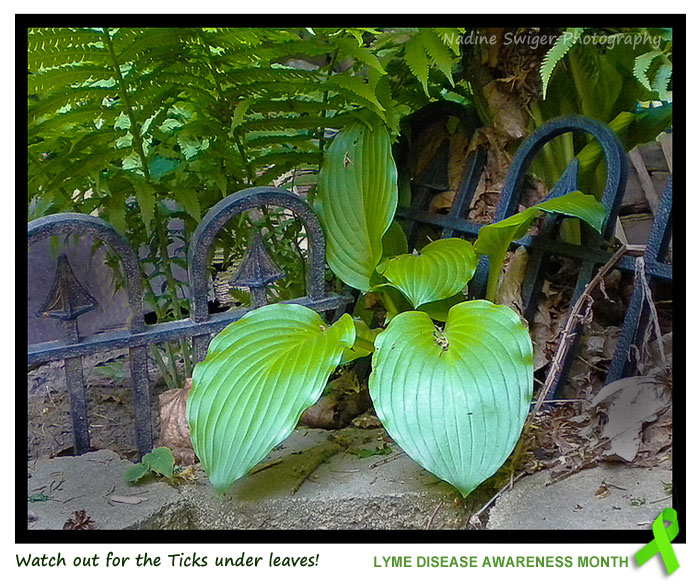 _______________________________________________________________________________________________________________________________________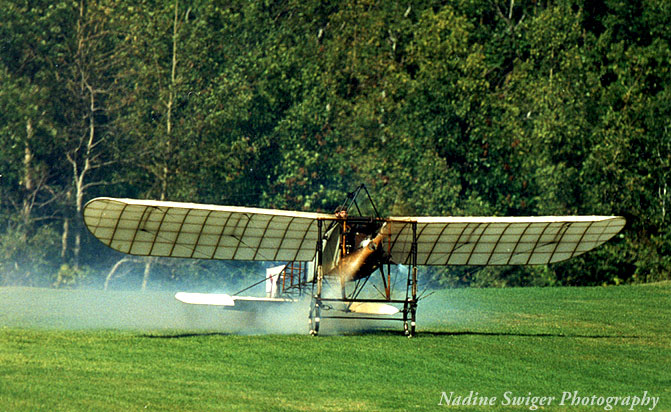 In this week's post, I would like to take you on a walk down memory lane and revisit one of the most adventures photo shoots I have been on. Let me take you back in time to The Old Rhinebeck Aerodrome. It's "A Living Museum," where you can experience history in motion as the vintage planes from the 1910's, 1920's and 1930's take to the skies over the Catskill Mountains. The Aerodrome hosts the largest collection of antique aviation, including planes from the Pioneer Era, World War I and the Lindbergh/Barnstorming Era.  I love the old WWI planes, but it's an amazing sight to see planes from the Wright Brother's Era actually lift off in flight.
The day of my visit to the Aerodrome, it was the perfect weather for flying. Sometimes the different winds can prevent a safe flight for each plane structure; the conditions that day permitted all the planes that were flyable to go up in the air.  You really couldn't of ask to have a better day for an airshow or for taking photos, but the biggest thrill of my shoot was going up in a biplane to take photos from the sky!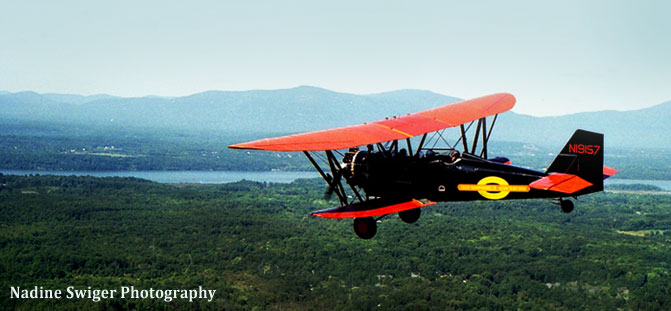 People have told me that I was crazy to get into a biplane, but it really wasn't even a second thought. You see, aviation is something that is in my blood as I grew up in a family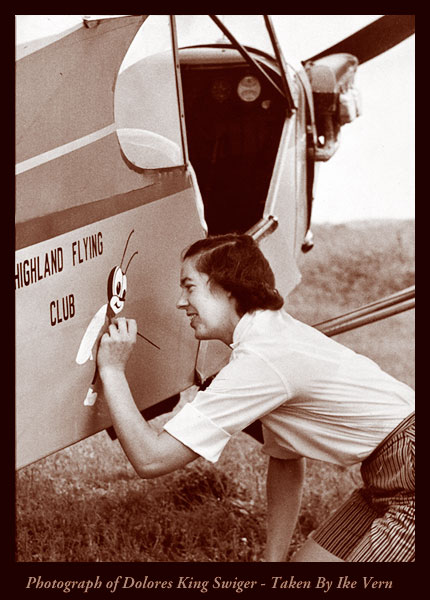 of pilots and aviation enthusiast. Where jumping into a plane was something of a second nature that I learned early as a child. My grandpa took his first plane ride back in the 1920's with Tony Fokker himself, the man who designed and manufactured the planes for the German Army during WW1 (including the Fokker Triplane flown by the famous Red Baron). My mother was a pilot in the 1950's, when it was still more taboo for women to do something as adventurous as to learn to fly a plane. The photo to the right is a photo of my mom at her flying club, taken by the great photographer, Ike Vern. (He's the renowned free-lance magazine photographer and documentary film maker, who not only did freelance worked for Look, Life, Holiday and Collier's magazines but he also was a founding member and former president of the American Society of Magazine Photographers.) My mom's two oldest brothers are pilots as well. When my Dad met my Mom, it wasn't long before he was struck with the aviation bug. Before Mom knew it, Dad was taking his solo flight and getting his pilot's license too. My mom stopped flying when my sisters and I came along but she encouraged my father to continue on with his passion. As a child, I remember spending endless hours in the cockpit of the plane my dad was building in our garage, pretending to be on my very own Amelia Earhart adventures. Besides the one in the garage, my dad also owned a plane that he flew and kept at an airport just outside Mohawk, NY. I have a lot of great memories of going to the airport, taking plane rides with my Dad and stopping on our way home for Black Cherry Ice Cream Cones at the nearby ice cream stand. Ahh the little things in life that leave such big memories.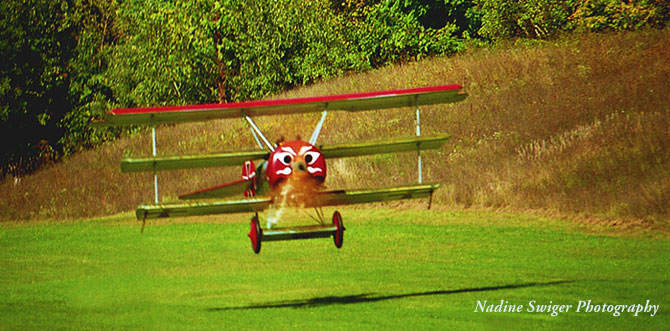 In the summertime, my family would take a few trips down to the Catskill Mountains to visit my mom's brothers, who owned and flew planes at the Old Rhinebeck Aerodrome. My Dad's plane was all enclosed and more modern which was great fun, but when we visited the Aerodrome, it was a whole new world as the airport was full of biplanes and even a few Triplanes.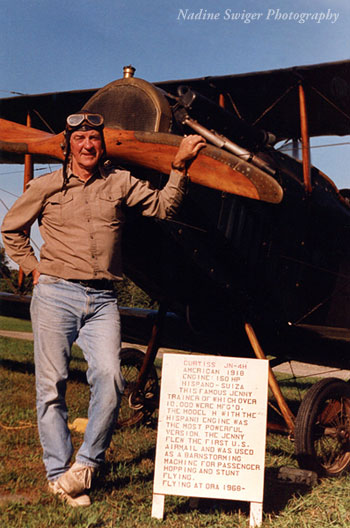 My uncles flew in the weekend airshows, which included a performance of a mock dog-flight between "Sir Percy Goodfellow" (played by my Uncle Dick for numerous years) and the evil German pilot, "The Black Baron" (first played by Cole Palen and eventually my cousin David took on the role for several years). The show was set in WW1 and loosely based on the Red Baron. When I was a kid and would see the biplanes, smell the castor oil and see my Uncle Bill, Uncle Dick and the other pilots in their flying entire (the scarf, aviation hat and goggles), it always made this little girl's imagination run wild. I would find myself lost on my imaginary adventure with Snoopy and the Red Baron! And of course, Snoopy was my co-pilot! My Uncle Dick flew a Sopwith Pup, so it was really easy to let that imaginary run wild (Snoopy flew a Sopwith in the comic strip). Several of my cousins followed suit, and as soon as they were old enough, they got involved with the Aerodrome and became pilots as well. Like I said, aviation is in my blood as I come from a line of pilots and aviation enthusiast. It was always so much fun to go down and watch my family members perform in the airshows. After the show, we would end up back at my Aunt Nadine's house (Yup! She's my namesake), having dinner and hearing the planes fly over as the aerodrome would continue to give rides to their patrons long after the airshow was over.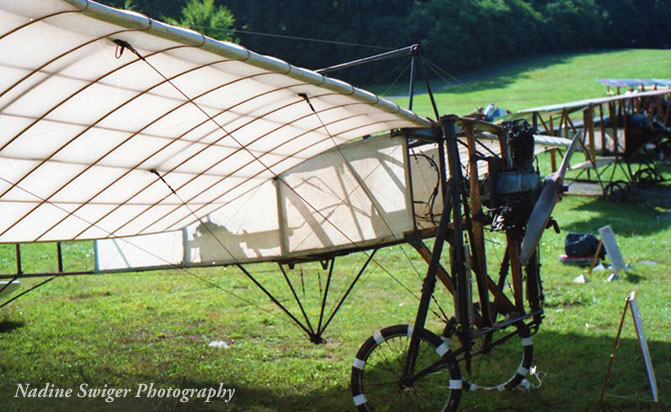 The day of my shoot, it was very early in my photography career. We had just went down for a visit with the family but as any photographer would do, I saw a photo opportunity that I couldn't pass up. I packed my camera bag with all kinds of lenses, stuffed as much film as I could fit into my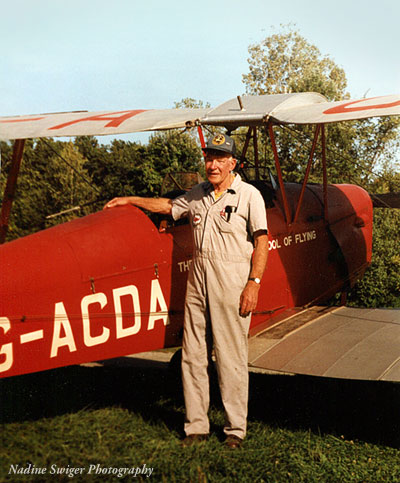 bag and planned to spend the day shooting at the show. We headed over early to aerodrome – they were just starting to bring the planes out on the airstrip and taking a few test flights. I was walking up and down the edge of the airstrip, photographing the planes that were out, when I ran into my Uncle Bill. He told me that he had been looking all over for me and to hurry up and grab my camera bag! We rushed towards his plane as he handed me an aviation hat and pair of goggles. He helped me up into his biplane and before I knew it, we were high above the Catskill Mountains. I was just enjoying the scenery of the Hudson River surrounded by the mountains, taking a few photos of the landscape, but really breathing in that peaceful feeling you get when you're airborne and listening to the sounds of the engine and the wind rushing by. There is really nothing in the world like that! My Uncle Bill tapped me on my shoulder and pointed to the two biplanes coming up on our side. Unknown to me, my uncle had arranged for us to go up and fly in formation with the two others planes, so I could get a photo of them from the sky. It was something I had not planned or anticipated, and even found myself changing lenses in the sky, but it was something that I will always remember we did. I can't say enough about how awesome it was; My Uncle Bill definitely gave me a photography adventure of a lifetime!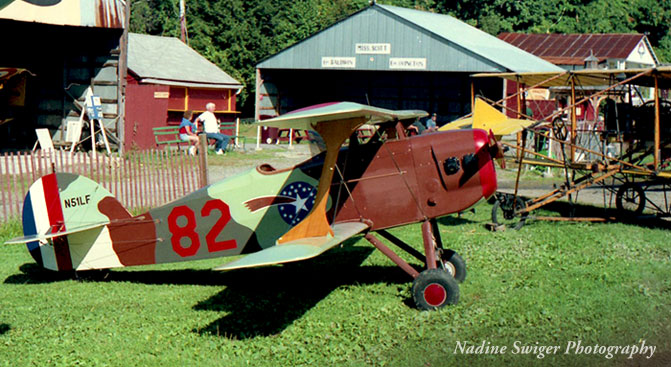 If anyone is interested more in the Rhinebeck Aerodrome or how my family got involved, I would suggest checking out my Uncle Dick's book, "The Skies over Rhinebeck: A Pilot's Story."  His book takes you on his amazing adventure from getting involved with flying to working with Cole Palen (the founder of the Rhinebeck Aerodrome) as he joined the Aerodrome family in it's early stages.
A lot has changed at the Old Rhinebeck Aerodrome over the past few years. From my understanding, it was due to security measures that the aerodrome faced – they no longer have as many actors on the field like they used to and from the last show I saw, it appeared that most of the special effects are no longer used. It's a shame, but I guess when one door closes another opens. Today, the shows are more focused around the experience of seeing planes in flight and learning about aviation history and Barnstorming. The pilots do still demonstrate a few barnstorming tricks and they still do a mock dog fight, but it just doesn't seem as realistic without the use of the special effects. Their museum has grown so much from when I was a kid; it is still a lot of fun going through and seeing all the history in the hangers. I did find some older video footage on YouTube, which I wanted to share. It's the way I remember the Old Rhinebeck Aerodrome as a child.

He's a photo gallery from one family visit that turned into one great photo adventure that will always stick with me. Thanks Uncle Bill! For more information about the Old Rhinebeck Aerodrome, visit: www.oldrhinebeck.org.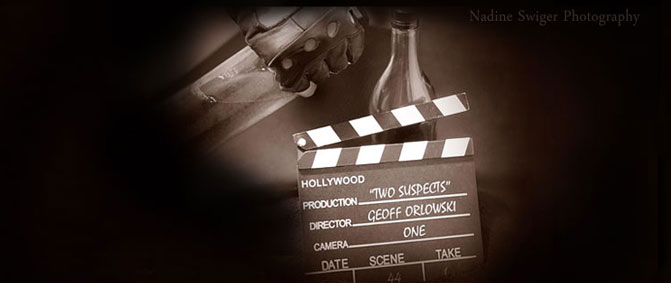 This week's photo blog I want to take you on the set of the TorchMan Film's movie set of "Two Suspects." It was almost a year ago when I received an email from my friend at TorchMan informing me that they would be shooting a movie in February in my area and was wondering if I would be interested in helping out. Never before have I shot still for a movie, so of course I jumped at the chance.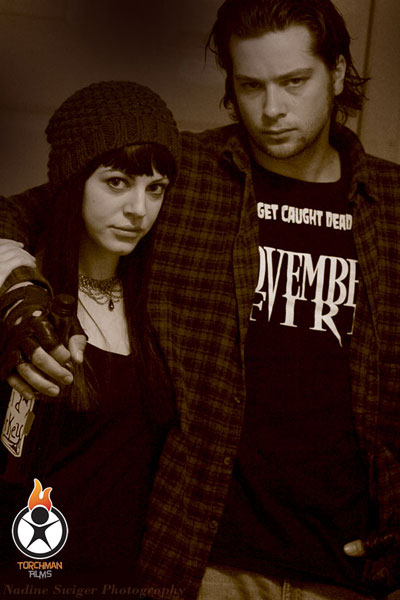 "Two Suspects" is a psychological horror movie, set in the 1990's. The story is focused around Heather and Ryan who meet up at a party and the story unfolds from there. I was given a copy of the script so I could get a feel of what the movie was about and the direction the photos should go in. The plot moves along in a suspenseful way that kept me on the edge of the chair, waiting to see what was next to unfold. Reading the script made me even more excited about shooting the promo shots and stills; I couldn't wait to see how they were going to film the scenes and what the set would look like.
What I realized during the shoot – I underestimated my love of horror films. I'm the one who usually has her head buried in a pillow, my jacket or in the shoulder of the person next to me when there is something piercing the skin on screen. I have my eyes closed tight and my fingers in my ears, trying to prevent myself from hearing that oh so lovely sound of things going into the skin. I thought with the fake blood sitting in a bucket on set and not having to hear the special sound effects, I would be more than fine during those scenes. And for the most part, I was able to just stay focus and get the photographs that I needed. However, there is one scene I could not get out of my head. I don't want to give too much away about the film, but lets just say there was a pretty violent death scene where the actor and actress nailed it on the first take. We all knew what was involved in the scene and the director went over with us all on how the scene was choreographed. What I didn't expect was when the director said "Action!,"  just how realistic it was going to looked. The scene happened so fast, and as soon as the director said cut, I looked around the room and everyone on the set had that shocked look on their face of horror. The director even jumped in between to make sure that no one got hurt during the take. If those cameras captured even half of what we all experienced on set, it will be one crazy scary movie!!!
I had a lot of fun watching the transformation of the actors/actress as they got into hair/make-up and costume, and then being able to take their portraits. Being on set to document the filming and to do some behind the scenes work was also really an amazing experience and it was a delight to work with director Geoff Orlowski of TorchMan Films. He runs a tight ship; every detail was organized and held to the insane schedule of shooting the entire movie in just one week. It was long hours on the set, yet the energy brought to the project made everyone pumped and kept things running smoothly. They had a really excellent crew; I couldn't of asked for a better first experience on a movie set. Thanks TorchMan!!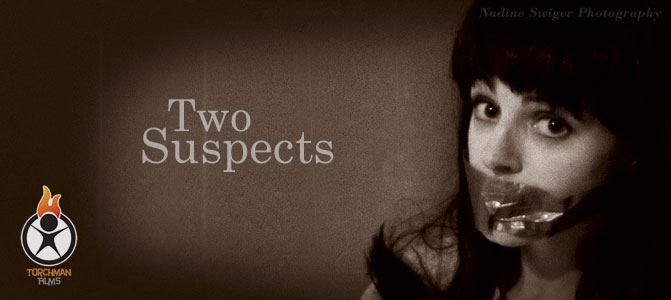 Here are a few photos that TorchMan Films allowed me to share. Check out www.torchmanfilms.com for the latest details on the film as they unfold. More photos to come as the details are officially released on the "Two Suspects" page.
Looking forward to the Premiere!
_________________________________________________________________________________________
UPDATE:  Movie is available on AMAZON.
Watch the trailor:

_________________________________________________________________________________________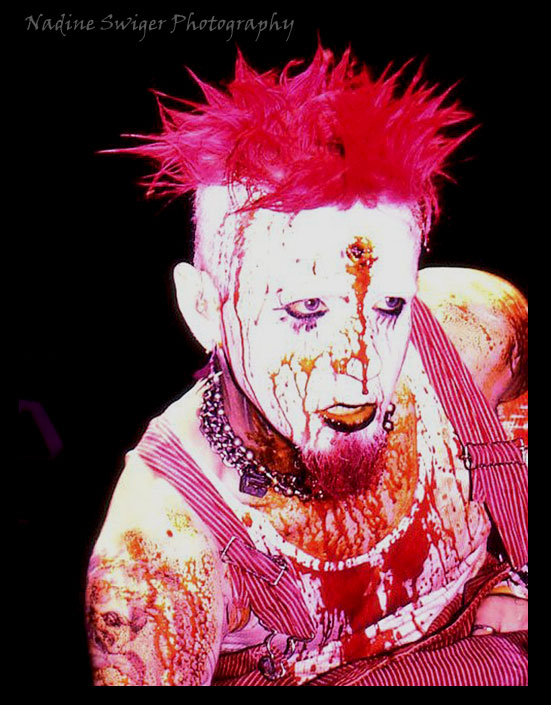 One thing I miss about shooting film, there was always so many different films to experiment with.  At times, the films were challenging and I always found myself inspired to try something new. One of my favorite experiments was shooting color infrared slide film.
I came across some photos that were taken with Color Infrared Slide Film. The photographer had shot a portrait, where the subject's veins appeared in the photograph in a blue-ish hue. Once I saw that, I wanted to try this out with a photo shoot I did with Mudvayne, as I thought the whole blue veins would be complimentary to the band's imagery in which they had at that time.
I got the film in and had only one week to run test rolls before the shoot. To learn about the film, I tried several different subjects and situations. I photographed buffalo in a field on a bright warm sunny day and a waterfall in open shade on a cooler mid-afternoon. I shot a window light portrait, using the soft afternoon/evening sun. I even managed to run a few test shots at a Gravity Kills' show under artificial stage lights in hot steamy club. Each subject gave me very different results.
I would have loved to have more time to test the film before the shoot with Mudvayne; however with Infrared film being so sensitive to light, that time was cut even shorter. The roll of film was so sensitive, you had to keep the film in the packaging canister and load/unload the film into your camera in total darkness. To process the film, the roll had to remain in the canister and the cartridge had to be loaded in the processing machines in total darkness as well. You can imagine how it was nearly impossible to find a local photo lab to process the slides in that manner. I ended up not getting the test rolls back until the day before I left for the Mudvayne show in Cleveland.  It was sink or swim; so I loading the film into my trusty old Pentax K1000 and headed out the door for the seven hour road trip.
When we got to Cleveland, it turned out to be a beautiful bright sunny day and the show outside. Mudvayne went on just before the sun was starting to go down.  Although I never got the blue vein effect I was originally going for, I did get some very interesting shots none the less. The color infrared film created a whole new effect with the band's stage make-up, fake blood and even had a new take on their dyed hair.
Pictured above is vocalist, Chad Gray, whose hair and beard were actually blue. Guitarist, Greg Tribbett's face paint was red with black lines and bassist Ryan Martini was in black face paint with bright orange hair.  Below is a Gallery from my pre-show experiments and some of the photographs from this shoot.
Today, there are several different techniques to digitally created infrared photographs. In 2007, Fuji  was the first to release a digital camera that could record infrared (FinePix IS Pro).  The FinePix Pro was based on the Nikon D200 and has a Nikon F lens mount.  Since then, IR Compatible has becoming more popular; several point-n-shoot cameras now feature a IR Compatibility mode. For the Pros, there are conversion kits to make your professional digital SLR into an infrared camera as well.  However, you don't need a special camera dedicated to infrared to get similar results. There are other techniques and filters in PhotoShop to allow you to create "near" infrared photos.
Here are a few links to those different techniques to make infrared photographs today:
Infrared Cameras/Conversion kits | Using filters in Photoshop | Infrared Point n Shoot Camera | Photoshop Filters tutorial 2
As photography progresses, so has Infrared Photography. I can't wait to get out and shoot more Color Infrared Photographs and try out these new digital ways.
These photographs were shot with Kodak Ektachrome Professional Infrared EIR Color Slide Film, using a Pentax K1000.
Copyright 2012 Nadine Swiger