Browsing articles from "January, 2012"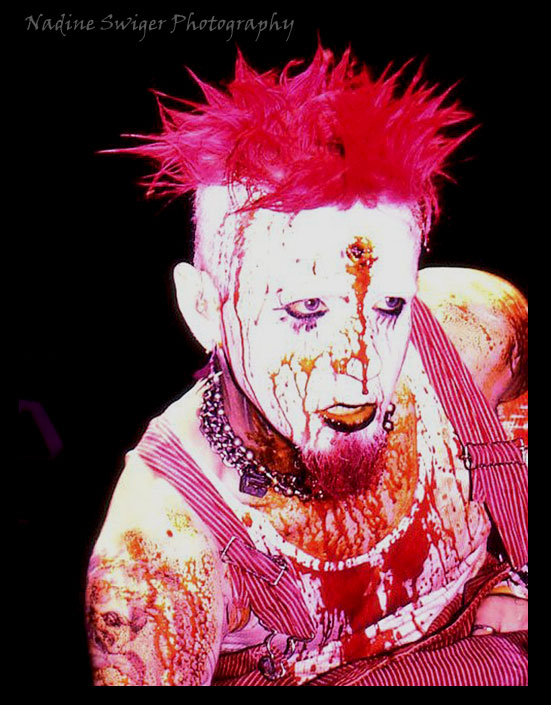 One thing I miss about shooting film, there was always so many different films to experiment with.  At times, the films were challenging and I always found myself inspired to try something new. One of my favorite experiments was shooting color infrared slide film.
I came across some photos that were taken with Color Infrared Slide Film. The photographer had shot a portrait, where the subject's veins appeared in the photograph in a blue-ish hue. Once I saw that, I wanted to try this out with a photo shoot I did with Mudvayne, as I thought the whole blue veins would be complimentary to the band's imagery in which they had at that time.
I got the film in and had only one week to run test rolls before the shoot. To learn about the film, I tried several different subjects and situations. I photographed buffalo in a field on a bright warm sunny day and a waterfall in open shade on a cooler mid-afternoon. I shot a window light portrait, using the soft afternoon/evening sun. I even managed to run a few test shots at a Gravity Kills' show under artificial stage lights in hot steamy club. Each subject gave me very different results.
I would have loved to have more time to test the film before the shoot with Mudvayne; however with Infrared film being so sensitive to light, that time was cut even shorter. The roll of film was so sensitive, you had to keep the film in the packaging canister and load/unload the film into your camera in total darkness. To process the film, the roll had to remain in the canister and the cartridge had to be loaded in the processing machines in total darkness as well. You can imagine how it was nearly impossible to find a local photo lab to process the slides in that manner. I ended up not getting the test rolls back until the day before I left for the Mudvayne show in Cleveland.  It was sink or swim; so I loading the film into my trusty old Pentax K1000 and headed out the door for the seven hour road trip.
When we got to Cleveland, it turned out to be a beautiful bright sunny day and the show outside. Mudvayne went on just before the sun was starting to go down.  Although I never got the blue vein effect I was originally going for, I did get some very interesting shots none the less. The color infrared film created a whole new effect with the band's stage make-up, fake blood and even had a new take on their dyed hair.
Pictured above is vocalist, Chad Gray, whose hair and beard were actually blue. Guitarist, Greg Tribbett's face paint was red with black lines and bassist Ryan Martini was in black face paint with bright orange hair.  Below is a Gallery from my pre-show experiments and some of the photographs from this shoot.
Today, there are several different techniques to digitally created infrared photographs. In 2007, Fuji  was the first to release a digital camera that could record infrared (FinePix IS Pro).  The FinePix Pro was based on the Nikon D200 and has a Nikon F lens mount.  Since then, IR Compatible has becoming more popular; several point-n-shoot cameras now feature a IR Compatibility mode. For the Pros, there are conversion kits to make your professional digital SLR into an infrared camera as well.  However, you don't need a special camera dedicated to infrared to get similar results. There are other techniques and filters in PhotoShop to allow you to create "near" infrared photos.
Here are a few links to those different techniques to make infrared photographs today:
Infrared Cameras/Conversion kits | Using filters in Photoshop | Infrared Point n Shoot Camera | Photoshop Filters tutorial 2
As photography progresses, so has Infrared Photography. I can't wait to get out and shoot more Color Infrared Photographs and try out these new digital ways.
These photographs were shot with Kodak Ektachrome Professional Infrared EIR Color Slide Film, using a Pentax K1000.
Copyright 2012 Nadine Swiger
As we ring in a new year, I took a moment to look back upon all the fun I had at my music webzine, Musician Photo Journal. I had interviewed and photographed some of my favorite bands, saw a lot of familiar faces and even had the pleasure of interacting with several different artists that I have never worked with before. When I reflected upon the interviews I did, I would have to say one of my biggest highlights was meeting and working with one of my favorite bands that I loved growing up, Skid Row.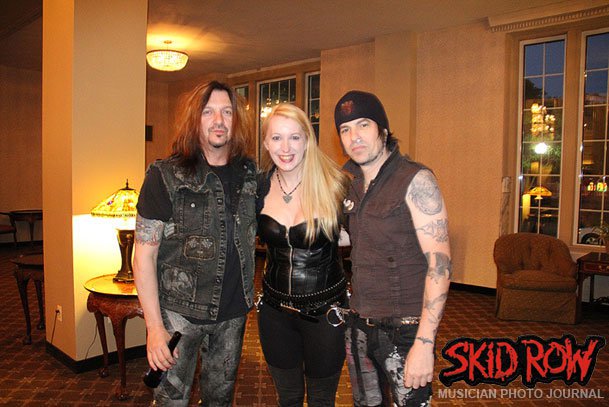 The story ironically starts a year ago as we rang in 2011. I had gotten a new car with satellite radio toward the end of 2010 and celebrated the New Year while listening to Hair Nation.  It wasn't until I found that station, did I realize just how much I missed the music I grew up on and how happy it makes me.  As the weeks went on, Skid Row was one of the bands that was really jumping out at me. I knew every song they played, word for word as I had played their albums growing up until the cassette tapes wore out and snapped. I would find myself in the Record Stores (yes, some still exists) re-buying those album and picking up their latest albums as well.  It was great to reconnect to what is the roots of my love for music. It really gave me something old and new to listen to, and got me through the frigid winter months that we had in Central NY.
Spring came and they announced that Skid Row would be the headlining artist for Taste Of Utica festival in June.  I was so excited to get to see them again, after all these years. I submitted my request to photograph the show and to do an interview with them. I wasn't sure how their schedule would work but I was hoping they would be able to fit me in. When I found out that I would be interviewing Dave "Snake" Sabo and Rachel Bolan, I have to admit that I was a little intimidated. They were the founding members and the main songwriters of the group that I loved for all these years. It was strange because I have been around a lot of different musicians and "famous" people most of my life and I usually don't get intimidated;  I didn't understand why now?  I couldn't remember ever hearing stories about anyone meeting these guys, so I really didn't know what to expect. Would they be cool? Would they be fun to talk with? For being in the industry for so many years and have accomplished so much, would they be full of themselves?   Yet I told myself that there has to a reason they have lasted so long in this industry. I pushed those thoughts aside as best as I could and just focused on what I wanted to ask them and the flow of my questions.
I ended up getting only 15mins to do my interview. My crew and I went early to set up the cameras, test out the lighting/sound and give me a few seconds to review my questions. Afraid I planned a little too well and had way too many questions to fit in a 15 minute block, I recorded my intro before the guys got there.  I don't usually do that, so it threw me off my game a little. I felt the interview had a little rough start but Rachel jumped right in and the interview was on its way. Any intimation that I had went straight out the window. These guys and their crew were really awesome to work with and I can honestly say, Rachel and Dave surpassed any expectation that I could even image or hope them to be. They were really down to earth and fun to talk with.
Now, if only ALL my interviews in 2012 will be this great, it will be one superb year!
Here is the interview:
You can also check out the photos I took from the show at MusicianPhotoJournal.com.
World Trade Center after 9/11
_____________________________________
Woodstock '99 – The fires and aftermath.
_____________________________________
Louis Lent Trial for the murder of Sara Wood.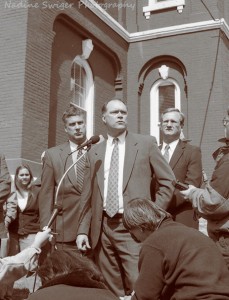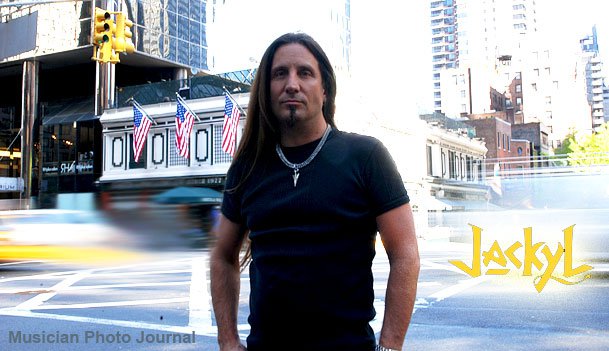 Photography Blog Coming Soon….