Browsing articles from "March, 2012"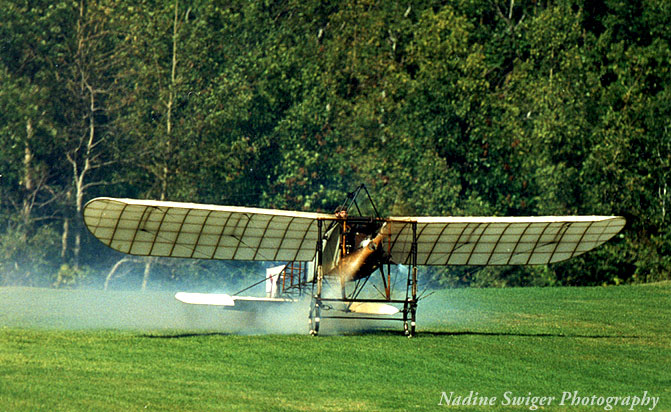 In this week's post, I would like to take you on a walk down memory lane and revisit one of the most adventures photo shoots I have been on. Let me take you back in time to The Old Rhinebeck Aerodrome. It's "A Living Museum," where you can experience history in motion as the vintage planes from the 1910's, 1920's and 1930's take to the skies over the Catskill Mountains. The Aerodrome hosts the largest collection of antique aviation, including planes from the Pioneer Era, World War I and the Lindbergh/Barnstorming Era.  I love the old WWI planes, but it's an amazing sight to see planes from the Wright Brother's Era actually lift off in flight.
The day of my visit to the Aerodrome, it was the perfect weather for flying. Sometimes the different winds can prevent a safe flight for each plane structure; the conditions that day permitted all the planes that were flyable to go up in the air.  You really couldn't of ask to have a better day for an airshow or for taking photos, but the biggest thrill of my shoot was going up in a biplane to take photos from the sky!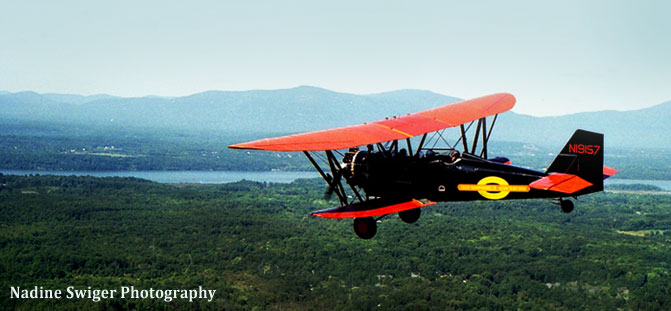 People have told me that I was crazy to get into a biplane, but it really wasn't even a second thought. You see, aviation is something that is in my blood as I grew up in a family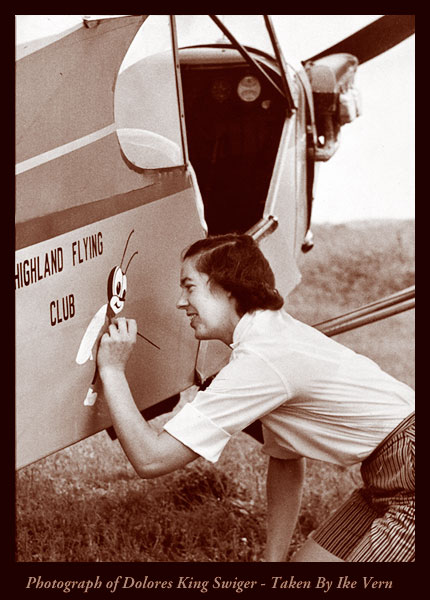 of pilots and aviation enthusiast. Where jumping into a plane was something of a second nature that I learned early as a child. My grandpa took his first plane ride back in the 1920's with Tony Fokker himself, the man who designed and manufactured the planes for the German Army during WW1 (including the Fokker Triplane flown by the famous Red Baron). My mother was a pilot in the 1950's, when it was still more taboo for women to do something as adventurous as to learn to fly a plane. The photo to the right is a photo of my mom at her flying club, taken by the great photographer, Ike Vern. (He's the renowned free-lance magazine photographer and documentary film maker, who not only did freelance worked for Look, Life, Holiday and Collier's magazines but he also was a founding member and former president of the American Society of Magazine Photographers.) My mom's two oldest brothers are pilots as well. When my Dad met my Mom, it wasn't long before he was struck with the aviation bug. Before Mom knew it, Dad was taking his solo flight and getting his pilot's license too. My mom stopped flying when my sisters and I came along but she encouraged my father to continue on with his passion. As a child, I remember spending endless hours in the cockpit of the plane my dad was building in our garage, pretending to be on my very own Amelia Earhart adventures. Besides the one in the garage, my dad also owned a plane that he flew and kept at an airport just outside Mohawk, NY. I have a lot of great memories of going to the airport, taking plane rides with my Dad and stopping on our way home for Black Cherry Ice Cream Cones at the nearby ice cream stand. Ahh the little things in life that leave such big memories.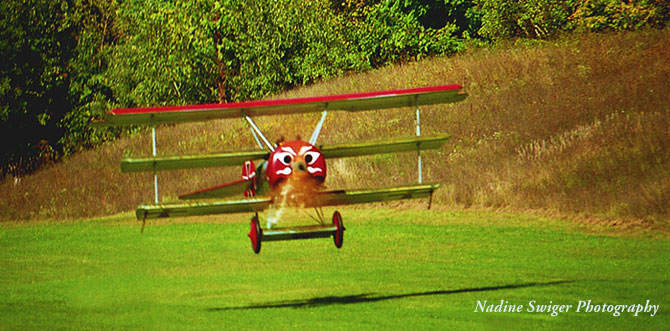 In the summertime, my family would take a few trips down to the Catskill Mountains to visit my mom's brothers, who owned and flew planes at the Old Rhinebeck Aerodrome. My Dad's plane was all enclosed and more modern which was great fun, but when we visited the Aerodrome, it was a whole new world as the airport was full of biplanes and even a few Triplanes.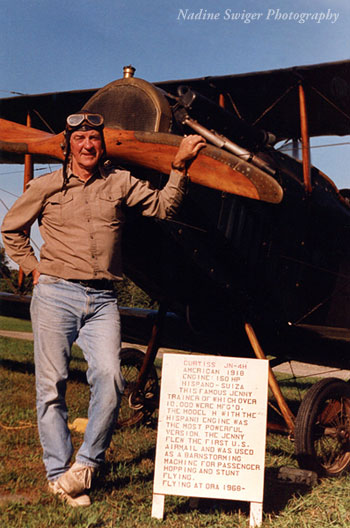 My uncles flew in the weekend airshows, which included a performance of a mock dog-flight between "Sir Percy Goodfellow" (played by my Uncle Dick for numerous years) and the evil German pilot, "The Black Baron" (first played by Cole Palen and eventually my cousin David took on the role for several years). The show was set in WW1 and loosely based on the Red Baron. When I was a kid and would see the biplanes, smell the castor oil and see my Uncle Bill, Uncle Dick and the other pilots in their flying entire (the scarf, aviation hat and goggles), it always made this little girl's imagination run wild. I would find myself lost on my imaginary adventure with Snoopy and the Red Baron! And of course, Snoopy was my co-pilot! My Uncle Dick flew a Sopwith Pup, so it was really easy to let that imaginary run wild (Snoopy flew a Sopwith in the comic strip). Several of my cousins followed suit, and as soon as they were old enough, they got involved with the Aerodrome and became pilots as well. Like I said, aviation is in my blood as I come from a line of pilots and aviation enthusiast. It was always so much fun to go down and watch my family members perform in the airshows. After the show, we would end up back at my Aunt Nadine's house (Yup! She's my namesake), having dinner and hearing the planes fly over as the aerodrome would continue to give rides to their patrons long after the airshow was over.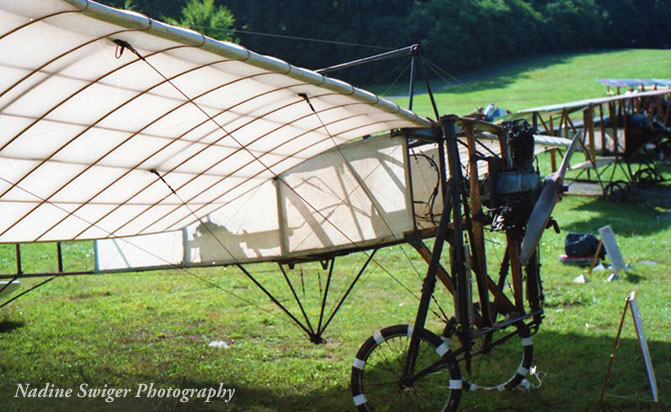 The day of my shoot, it was very early in my photography career. We had just went down for a visit with the family but as any photographer would do, I saw a photo opportunity that I couldn't pass up. I packed my camera bag with all kinds of lenses, stuffed as much film as I could fit into my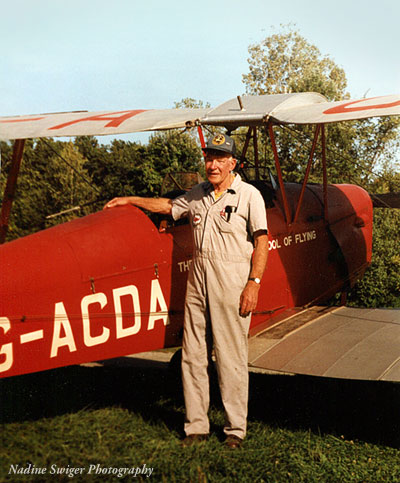 bag and planned to spend the day shooting at the show. We headed over early to aerodrome – they were just starting to bring the planes out on the airstrip and taking a few test flights. I was walking up and down the edge of the airstrip, photographing the planes that were out, when I ran into my Uncle Bill. He told me that he had been looking all over for me and to hurry up and grab my camera bag! We rushed towards his plane as he handed me an aviation hat and pair of goggles. He helped me up into his biplane and before I knew it, we were high above the Catskill Mountains. I was just enjoying the scenery of the Hudson River surrounded by the mountains, taking a few photos of the landscape, but really breathing in that peaceful feeling you get when you're airborne and listening to the sounds of the engine and the wind rushing by. There is really nothing in the world like that! My Uncle Bill tapped me on my shoulder and pointed to the two biplanes coming up on our side. Unknown to me, my uncle had arranged for us to go up and fly in formation with the two others planes, so I could get a photo of them from the sky. It was something I had not planned or anticipated, and even found myself changing lenses in the sky, but it was something that I will always remember we did. I can't say enough about how awesome it was; My Uncle Bill definitely gave me a photography adventure of a lifetime!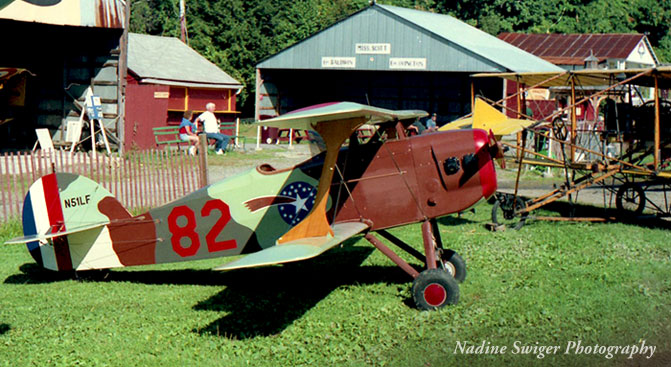 If anyone is interested more in the Rhinebeck Aerodrome or how my family got involved, I would suggest checking out my Uncle Dick's book, "The Skies over Rhinebeck: A Pilot's Story."  His book takes you on his amazing adventure from getting involved with flying to working with Cole Palen (the founder of the Rhinebeck Aerodrome) as he joined the Aerodrome family in it's early stages.
A lot has changed at the Old Rhinebeck Aerodrome over the past few years. From my understanding, it was due to security measures that the aerodrome faced – they no longer have as many actors on the field like they used to and from the last show I saw, it appeared that most of the special effects are no longer used. It's a shame, but I guess when one door closes another opens. Today, the shows are more focused around the experience of seeing planes in flight and learning about aviation history and Barnstorming. The pilots do still demonstrate a few barnstorming tricks and they still do a mock dog fight, but it just doesn't seem as realistic without the use of the special effects. Their museum has grown so much from when I was a kid; it is still a lot of fun going through and seeing all the history in the hangers. I did find some older video footage on YouTube, which I wanted to share. It's the way I remember the Old Rhinebeck Aerodrome as a child.

He's a photo gallery from one family visit that turned into one great photo adventure that will always stick with me. Thanks Uncle Bill! For more information about the Old Rhinebeck Aerodrome, visit: www.oldrhinebeck.org.