I was gearing up to shoot the first of many photo shoots for My SteamPunk Revolution. The shoots ran over the course of 3 weeks as we had enough to launch their new website: MySteampunkRevolution.com.
I was very excited as I had 100% control over the shoot. From searching high and low for the outfits, belts and funky goggles to making mini top hat fascinators, yarn hair falls and feather shawls, I couldn't wait to get these shoots on their way. This was definitely the largest photo shoot I have taken on.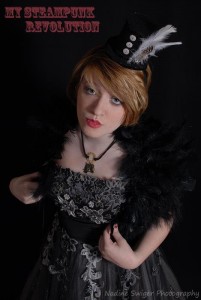 Round one was shot in the studio with a low key setting. The lights were set; the outfits on the rack and the models began to arrive. Unfortunately the night before, the furnace wasn't working and the repair guy was suppose to be there in the early morning. Like anything with Murphy's Law, he was running late. The girls were dressed and we were just about finished with hair and make-up when he arrived. I have to say, it was quite amusing when I answered the door to let him in. The first thing he saw on the table was our "props" of bullet belts, rayguns and goggles. He's eyes got so big, he stopped dead in his tracks and asked "What the hell is going on here?" I could only imagine what was running through this poor man's head. I told him that we were just about to do a photo shoot and pointed to the models. The look on his face was priceless as you can imagine the relieved look on his face when he saw the girls were fully dressed. Katlynn was up first in a formal ball gown and Tamera minus the hairfalls was on deck in a 1930's inspired pinstrip skirt. I'm sure our repair guy had lots to say when he got back to the office. 🙂 Before we knew it, we had heat and out shoot was set to go.
The Low Key shoot was spilt into two days. We had a blast and I couldn't wait to take the girls out on location. Here are some photos from the first low key shoot: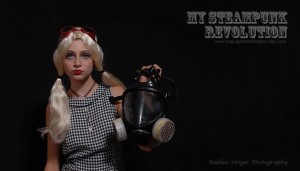 Check out PART 2 for LOCATION SHOTS.
___________________________________________________________________________________
LINKS : CREDITS

MY STEAMPUNK REVOLUTION

WEBSITE : www.MySteamPunkRevolution.com
FACEBOOK : www.facebook.com/mysteampunkrevolution
MODELS
Julia Salamone, Tamara Marie, Kate Ellis, Brit Rose, Katlynn Woodward,
Jenn Bramley, Emily Esty, Darien Faith
___________________________________________________________________________________